The positive parenting is a parenting style based on attentional child, absence of violence, creation of security dialogues and establish emotional ties.
The development of the competences of parents and children's professionals is a key factor for the protection and promotion of the rights of the child. There is no doubt that educating a child to develop as a person and acquire the autonomy and competencies necessary for his life is a great responsibility.
For many people it is something innate, however for others it is a great effort and dedication to be "good parents" and need help. Although the parental practices have a private nature, the parentability has a social component, formed by what society understands and expects from adequate parental behavior and by the way in which each State establishes its public policy of attention to families. 
Positive Parenting
Therefore, we can say that positive parenting policies will aim to reconcile the rights, responsibilities, needs and duties of parents with the needs, interests and rights of children.
What needs of the child are covered with Positive Parenting?
This concept is intended to cover the following needs of the child:
Attention. It is necessary to give the attention that the child needs to give him warmth and security, because according to the Ministry of Health, Social Services and Equality (2012) cited in Bernal and Sandoval (2013) "the emotional well-being and the correct development of the child's nervous system" and their abilities (language, memory, attention) depends on the protective response of the adult. If the baby's needs are not addressed quickly, he experiences anxiety, sadness and frustration, feelings of helplessness that negatively affect his development. "
Structure and orientation. Routines benefit the child because besides creating a sense of security, it also favors the development of habits that will help him in his adult life.
Recognition and Empowerment. It is important that they be given the place they need within the family, listening to their contributions and valuing them as a person. This will favor your mental development and feelings of responsibility.
Education without violence. From the Positive Parentality, it is intended not to use any type of physical punishment or denigration for the child, as it understands that there are more favorable and optimal ways that can be used for proper development and education (Moreno, 2010).
What are the 8 basic principles of positive parenthood?
Positive parenting can be based on 8 basic principles that every parent should know, these principles are derived from the needs that should be covered by the child (Save the children, S / F):
1-Minors have the right to appropriate guides and care
Every child needs basic care, that is, emotional, physical care, behavioral guidelines and rules that help him feel protected and safe. In the case of not meeting this basic need, we will be violating the right of that minor and therefore affecting its development.
2- It is based on knowing, protecting and dialoguing
Each child, depending on their stage of development, will act in one way. It is important that as parents we know what they think, how they might react and what they feel. It is also important that they can trust us to feel protected and guided.
Finally, we have to choose to solve the problems that may arise without using shouting, insults etc. It is important that we know our son / daughter in order to anticipate their needs and promote their physical and emotional well-being.
3- The affective bonds
Affective bonds are very important because they are created at the moment of birth and unite the child with their parents. It is this and no other that will provide the security you need and will affect your personality and self-esteem.
4- Show affection towards children
As parents we must show the affection we feel for our children so that they know they are loved and thus help them feel safe.
For a child, it is very good to feel that it is important for their parents and that they are proud of him / her. This will help you feel competent in all the activities you do in your day to day.
5- Set rules and limits encouraging their participation
Although we often think that this is not the case, setting norms and limits for children helps them in their development and creates security and emotional well-being.
For this reason, it is important that we explain to them why the rules so that they understand them and can respect them or even allow them to participate in its preparation through dialogue, thus creating both the rewards and the corresponding penalties for non-compliance.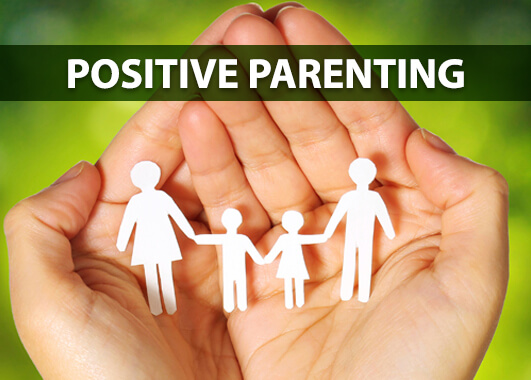 6- Put punishments paying attention to how
It is understandable that we have to punish children when they disobey any rule, but it is important that they be clear, calm and respectful from the start.
In the event that they fail to comply, it is important that we do not call attention to them by shouting or in public. We must wait for the right moment to know why he has failed to comply and what his motives are before punishing him.
7- Traditional punishments do not work
We are used to thinking that shouting and slapping are effective as an educational style, but it is not true. If we are educating our children this way, they will understand that the immediacy of the force is more useful to the option of dialogue.
Therefore, we have to learn to use punishments that adapt to the age and maturity of our children.
8- Parents should feel good
As parents we often can not avoid that some situations affect us more than others. It is normal to feel bad on a certain day but to assume paternity in a positive way implies that you also have to take care of yourself and look for moments to clear yourself.
At first glance, it may seem that we all educate and raise our children from a Positive Parenthood. However, educating our children from this perspective, in addition to the above, implies in a summarized way:
Create safe and positive environments in which the child can be the same and make mistakes without penalties.

Be sensitive to our children by providing them with adequate answers to their needs at all times.

Not using aggressive punishments, as noted above are not effective.

Have realistic expectations of them, not demanding what they can not do.

Caring as parents to be able to exercise our role well (Loizaga, 2011).
Are there policies to support positive parenting?
Adequate support mechanisms must be provided to parents to fulfill their important responsibilities in raising and educating their children. Therefore, Member States are called to support parents in their tasks through:
Financial, administrative and legislative measures that help to optimize the conditions to establish a positive education for the minor.

Provide advisory services such as telephone lines, educational programs for parents as well as local counseling services.

Provide services for parents at risk to eliminate obstacles that may exist to positive parenting.
In order for positive parenthood to be able to develop correctly, the work carried out by local corporations is important, not only those mentioned above (Quintana and López, 2013).
How is positive parenthood promoted?
From the Council of Europe, thanks to Recommendation Rec (2006) 19, positive parenting is supported by calling on the Member States to carry out a series of actions that facilitate this exercise.
However, this is not enough because, as we have previously indicated, the role of father and mother can be very complicated for many people.
Therefore, an essential resource to promote positive parenting is parental education (Quintana and López, 2013). This in addition to promoting the necessary skills in parents will also promote processes of cognitive, affective and behavioral change in adults.
Thanks to these processes of change, parents can optimize their exercise of parenthood and even rebuild it.
Finally, we have to point out that if there are not adequately trained professionals to carry out the appropriate training courses or even to know the needs that the parents of a certain area have all parental education will be a failure and therefore positive parenthood.
Is it harder to be a good father nowadays?
Giving a quality education to our children in the social and historical context in which we live is much more complicated (REA, 2001).
According to the study prepared by the Society of Social Pediatrics in 2007 cited in Floreancing 2010 there is an increase in certain behavior problems and child and adolescent health.
There are also more cases of substance use and addictions, obesity or conflict and violence in the school context.
Therefore, it is important to influence through parental education in the improvement of certain parental skills and educational styles, of parenting and even of developing healthy habits to try to reduce the problems mentioned and even eliminate them.
There are programs that are dedicated to train parents promoting a Positive Parenting, then we will name just a few, given the wide range of programs such as:
The Tiple- P. Which works with parents to prevent and treat behavior problems of children and preadolescents helping them to acquire the necessary skills that influence children to behave properly.

The Building Family Strengths. Which proposes the development of family strengths: communication, joy, family history, humor, optimism …

Finally, talk about what we are going to present here today, the Positive Parenting that we will detail below (Bernal and Sandoval, 2013).
Conclusion
Nobody is born knowing to be father or mother and less in a society that is evolving and changing continuously. The society in which we live demands that we all have a good adaptation, integration and socialization.
However, the necessary resources are not provided to achieve these objectives or for parents to comply with them. For this reason, it is important that the States support them so that they can carry out an adequate role of parenthood.
As we have mentioned before, programs are being carried out in order to solve the doubts that any parent can face in different topics such as parenting styles, development milestones … Each one tries to meet some objectives and solve the problems that parents can have.
Also Read: What is Parental Control on the Net?
The program that we have presented today, Positive Parenting is based on respecting all those needs that the child may present working with actions that favor the strengthening of attachment, its development, communication … Respecting the family environment and the skills and abilities of each individual.